North Iliniza
5.125 m / 16,810 ft
Good first objective above 5.000 m /16,400 ft
TRIP OVERVIEW
North and South Ilinizas are located about 55 km Southwest of Quito. Originally, there was one volcano, which exploded in a massive eruption that split the mountain in half a very long time ago. The two peaks are separated by a saddle and are about 2 km away from one another. There is a small refuge between the two peaks: Iliniza South is icy and hard to climb. North Iliniza is rocky and a lot easier.
Arrive/Depart: Quito
Group Size: 1:3
Pre-requisites: Basic mountaineering knowledge
Difficulty Levels: Intermediate
EXPLAIN DIFFICULTY LEVELS
Extension: Optional 1 extra day for weather contingency
Access/Depart: Drive in and drive out with 3 hours hike to the hut
Accomodation: Nuevos Horizontes Hut (4.700 m / 15,416 ft)
Activity: Hiking / Climbing
Seasons: All year round
Equipment: North Iliniza Climbing Excursion Gear List
Download PDF
ITINERARY
The ascent of the North peak involves only a modest gain in altitude. The route is from the west side of the mountain, with some easy scrambling below the summit. From the top there are spectacular views of South Iliniza, Cotopaxi, and Chimborazo.
Fifty years ago North Iliniza still had a glacier, but it has completely melted in the last few decades. So now it is rocky and quite easy to climb.
DAY

01
Travel to Iliniza Ecological Reserve
Pick up at Quito at around 9:00
Travel for 2 hours to the Iliniza Ecological Reserve
3 hour hike up to the hut
Safety talk and walk around during the afternoon
Early dinner at 18:00
Activity: 3 hour trekking
Transportation: 2-hour private van/jeep transfer
Meals: Lunch / Dinner
DAY

02
Summit North Iliniza / Return to Quito
Climb North Iliniza leaving at 05:00
Descend from mountain to the hut
Rest, and packing
Descend to the vehicle
Return to Quito
Activity: 4 hours climbing up / 2 hours descending
Transportation: 2-hour private van/jeep transfer
Meals: Lunch
Important: Please note that this itinerary is a guideline only. We will do every effort to follow it, but in case of unforeseen circumstances we may have to make changes.
WHY TAKE THIS TRIP WITH US?
Our mountain guides are an integral part of Andeanface because they understand and share our climbing principles. The quality of our guiding staff is the primary difference between us and our competitors. The guides we employ are personally known to us for several years, this has given us some of the best reputation. More importantly we consider safety on the mountains our main goal.


Activities
Hiking and scrambling

Terrain
Easy hiking, on some section we need to use our hands (scrambling)

Travel
We travel to Iliniza by jeep, and hike for 3 hours to the hut, horse support is an option

Weather
Due to its position west of the Andean range, is one of the peaks which has more sable weather
RECOMMENDED CLIMBS
Below is a list of some hikes that can be done as a preparation for South Iliniza.
1. Cuicocha | 3.300 m / 10,824 ft
2. Pasochoa | 4.200 m / 13,800 ft
3. Rumiñahui Central Summit
| 4.600 m / 15,088 ft
4. North Iliniza | 4.788 m / 15,704 ft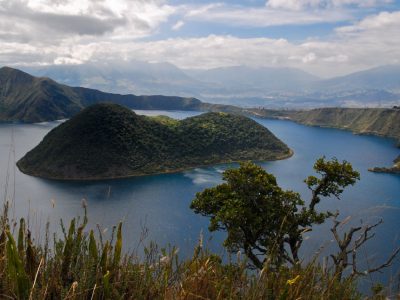 Elevation
3.200 m / 10,496 ft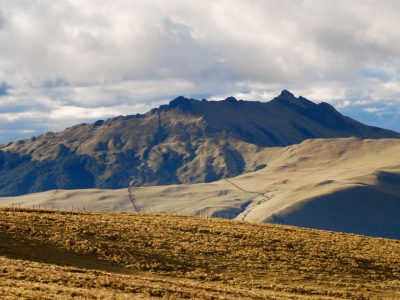 Elevation
4.200 m / 13,776 ft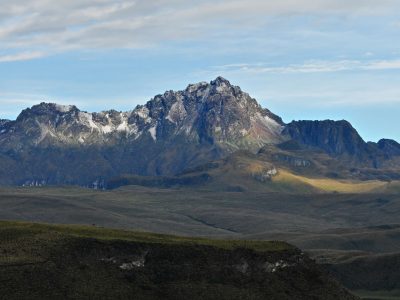 Elevation
4.631 m / 15,189 ft