Pasochoa Trek
4.200 m / 13,776 ft
A great trek with a view of the pristine forest inside the crater
TRIP OVERVIEW
Pasochoa is an ancient and heavily eroded volcano that has been inactive since the last ice age. It is located 30 km South of Quito. Inside the crater there is the Pasochoa Protected Forest Reserve, a humid Andean Forest, with more than 110 species of birds and 45 species of trees at an altitude of 2.700 m / 8,856 ft to 4.200 m / 13,776 ft. Some of the plants have an important medicinal value. Inside the crater there are several self-guided loop trails to be taken which vary from one to seven hours. On a sunny day it is possible to see the magnificent condors flying inside the crater.
Our 7 day Cotopaxi trek and climb (which includes Pasochoa) is also available for those looking for a longer hiking and mountaineering program https://www.andeanface.com/tour/cotopaxi-trek-climb/
Arrive/Depart: Quito
Group Size: Open
Pre-requisites: Acceptable physical condition
Difficulty Levels: Easy
EXPLAIN DIFFICULTY LEVELS
Access/Depart: Drive in and drive out
Activity: Trekking / Wildlife & Natural History
Seasons: All year round
Equipment: Trekking Excursions Gear List
Download PDF
ITINERARY
One of the routes up Pasochoa is by the North-eastern side. This is the shortest approach to the summit and is a good first acclimatisation hike. You can gain altitude much faster than following the crater route.
We drive for one and a half hours to an altitude of 3.400 m / 11,152 ft where we start walking. The hike normally takes four hours up to the summit and the descent two hours.
DAY

01
Trek to the summit of Pasochoa
Pick up at Quito at around 7:30
One and a half hours drive to Pasochoa
Four hour hike to the summit
Box lunch
Two hours down to the vehicle
Back at Quito by 17:30
Activity: 4 hours climbing up / 2 hours descending
Transportation: 1 1/2 hours private van/jeep transfer
Meals: Box Lunch
Important: Please note that this itinerary is a guideline only. We will do every effort to follow it, but in case of unforeseen circumstances we may have to make changes.
WHY TAKE THIS TRIP WITH US?
We have designed these hikes after being exploring and trekking in Ecuador for over 20 years. We don't just offer the classic trekking routes; we have a comprehensive range of hiking excursions that take you to explore the hidden corners of the northern Andes of Ecuador, offering you off-the-beaten-path experiences, hikes that discover forgotten trails, and stunning natural sights. Each single excursion can be part of a multiple day tailor made program.


Activities
Hiking and a bit of scrambling at the end

Terrain
Part of the hike is on a dirt road up to 3.600 m / 11,811 ft, where we follow a trail up to the summit

Travel
We travel to Pasochoa by jeep or van

Weather
It often has clear days as it is located in the middle of the so called Avenue of the Volcanoes
SUGGESTED COMBINATIONS
This area offers plenty of possibilities for adventure in the high paramo.
We can arrange different horseback riding trips in the area to visit either Pasochoa, Rumiñahui or Cotopaxi National Park. Or we can suggest a stay in one of the splendid haciendas nearby and a day trek for the following morning.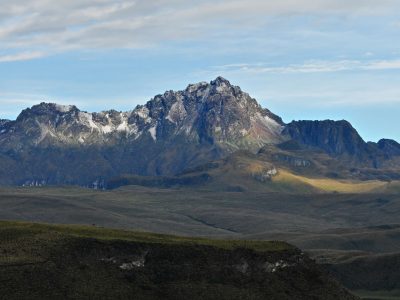 Elevation
4.631 m / 15,189 ft
Corazon
A long trek on a mountain with a "heart"
Elevation
4.788 m / 15,704 ft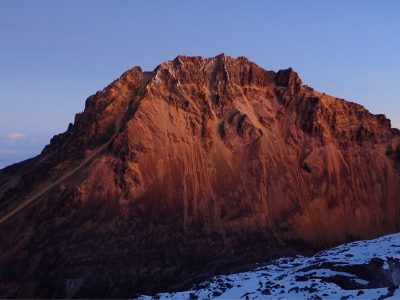 Elevation
5.125 m / 16,810 ft