Imbabura Trek
4.630 m / 15,190 ft
A deity in the indegenous cosmovision will challenge you with it's steep foothills
TRIP OVERVIEW
Imbabura is a strato volcano located 40 miles (65 km) north of Quito. There are two main summits on Imbabura. The higher peak (100 m/328 ft) is reached by traversing a knife edge crater rim from the north summit of the normal route.
The peaks of Imbabura were once glaciated, and used to serve as an important ice source for the nearby villages. People would climb high onto the mountain to get ice from the glacier and carry it back to sell at the markets in the villages of Otavalo and Ibarra. Today the village of Otavalo is still famous for its large market, although it is now largely a craft market selling items such as vibrant textiles, wood carvings, and the Panama hats (which actually originated in Ecuador).
Arrive/Depart: Quito
Group Size: Open
Pre-requisites: Acceptable physical condition
Difficulty Levels: Moderate
EXPLAIN DIFFICULTY LEVELS
Access/Depart: Drive in and drive out
Accomodation: Hostel Casa de Aida
Activity: Trekking / Wildlife & Natural History
Seasons: All year round
Equipment: Trekking Excursions Gear List
Download PDF
ITINERARY
DOWNLOAD ITINERARY
Imbabura's steep slopes make it a good acclimatization climb for those preparing for Ecuador's famous high altitude volcanoes.
Highlights include hiking through tall grass paramo and rocky outcroppings followed by lush vegetation higher on the mountain.
Imbabura overlooks San Pablo Lake, Ecuador's largest natural lake. On a clear day you have a beautiful views of the northern part of the so-called "Avenue of the Volcanoes", including Cayambe, Antisana, Ilinizas, Volcan Chiles and Cumbal located in Colombia.
DAY

01
Visit the famous Otavalo Market
Pick up at Quito at around 7:30
Travel for 2 hours to Hostel Casa de Aida at the base of the peak
Visit the Otavalo Market or Cuicocha lake on the way
Lunch in Otavalo or Cuicocha
Activity: Visit Otavalo Indian Market or Cuicocha Lagoon
Accommodation: Hostel Casa de Aida
Transportation: 2-hour private van/jeep transfer
Meals: Lunch / Dinner
DAY

02
Summit of Imbabura / Return to Quito
Early start for the 6-7 hours hike
Box lunch
Two hours drive to Quito
Descend to the vehicle
Back at Quito by 19:00
Activity: 5 hours climbing up / 2 hours descending
Transportation: 2-hour private van/jeep transfer
Meals: Box Lunch
DOWNLOAD ITINERARY
Important: Please note that this itinerary is a guideline only. We will do every effort to follow it, but in case of unforeseen circumstances we may have to make changes.
WHY TAKE THIS TRIP WITH US?
We have designed these hikes after being exploring and trekking in Ecuador for over 20 years. We don't just offer the classic trekking routes; we have a comprehensive range of hiking excursions that take you to explore the hidden corners of the northern Andes of Ecuador, offering you off-the-beaten-path experiences, hikes that discover forgotten trails, and stunning natural sights. Each single excursion can be part of a multiple day tailor made program.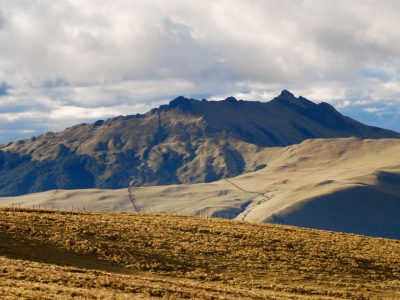 Elevation
4.200 m / 13,776 ft
Corazon
A long trek on a mountain with a "heart"
Elevation
4.788 m / 15,704 ft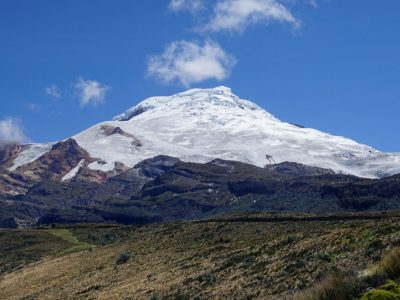 Cayambe
The highest point on the surface of the Earth through…
Elevation
5.790 m / 18,991 ft