El Altar
5.405 m / 17,730 ft
The most technical of all the mountains in Ecuador
TRIP OVERVIEW
It doesn't matter where you view it from; this ancient and extinct volcano is the most impressive in Ecuador's Andes. The fifth highest, it is the most technical of all the mountains in Ecuador. Known as "Capac Urcu" in Quichua for Sublime Mountain. El Altar presents the hardest climbing in Ecuador.
A legend says that El Altar tried to steal Tungurahua, Chimborazo's wife. Chimborazo went to war against El Altar and won, leaving El Altar smashed. According to Indian legend, the collapse happened in 1460; geologists say that the collapse happened a lot earlier. The Spanish named the mountain El Altar, for it resemblance to a cathedral; German explorer and climber Hans Meyer christened the peaks with their individual religious names. El Altar is made up of nine major summits arranged in a reverse C-shape. Starting with the highest in the south and going around counter clockwise the
peaks' names are as follows: Obispo; Monja Grande; Monja Chica; Tabernaculo; the three Frailes, Oriental, Central and Grande; and Canónigo.
El Obispo 5.319m / 17,451 ft is the most popular peak of El Altar because it is the easiest to get to and the highest. It has also some of the best climbing in Ecuador, which in good conditions is excellent. The choice of which the three standard ways up to Obispo, depends on the snow conditions.
Arrive/Depart: Quito or Riobamba
Group Size: 1:1 or 1:2 depending on the peak to attempt
Pre-requisites: Very good physical condition and proven alpine mountaineering and rock climbing experience
Difficulty Levels: Strenuous
EXPLAIN DIFFICULTY LEVELS
Extension: Optional days for weather contingency
Access/Depart: Drive / Hike in and out with horse support
Accomodation: Camping
Activity: Hiking / Rock and Mixed Climbing
Seasons: Better in September or from November to February
Equipment: El Altar Climbing Excursion Gear List
Download PDF
ITINERARY
Summit day on El Altar begins early as we climb in the predawn hours on the route we decided upon the day before. Steep snow and ice leads to the upper superior glacier. From here a narrow gully of steep ice leads to a very exposed notch in the summit crest. From the notch we can look north into the deep inner cirques of El Altar. The last section of the climb is often the hardest with a steep rock wall above the notch presenting technical rock climbing difficulties. The holds are large but the rock is steep. Descent is by rappel and down climbing.
El Altar is a long summit day with varied climbing. It is no wonder it was the last of Ecuador's 5.000 meter summits to be ascended!
DAY

01
Travel to El Altar Volcano
Pick up at Quito at around 9:00
Lunch at Urbina
5 hour drive to Vaqueria Inguisay 3.550 m /11.650 ft for night camping
Activity: Camping
Transportation: 5-hour private van/jeep transfer
Meals: Lunch / Dinner
DAY

02
Campamento Italiano (Italian Camp)
Hike up to Campamento Italiano 4.600 m / 15,090 ft
Set up camp
Activity: Trekking / Camping
Meals: Breakfast / Lunch / Dinner
DAY

03
Summit Attempt of Obispo
Climb Obispo and return to camp
Activity: Summit attempt - 7 hours climbing up / 3 hours descending
Meals: Breakfast / Lunch / Dinner
Spare day to rest and relax or explore the area
Activity: Relax / Explore / Camp
Meals: Breakfast / Lunch / Dinner
DAY

05
Return to Vaqueria Inguisay
Walk down back to Vaqueria Inguisay
Set up camp
Activity: 3 hours descent to campsite
Meals: Breakfast / Lunch / Dinner
Dismantle campsite
Leave around 10:00
Activity: Drive
Transportation: 5-hour private van/jeep transfer
Meals: Breakfast / Lunch
Important: Please note that this itinerary is a guideline only. We will do every effort to follow it, but in case of unforeseen circumstances we may have to make changes.
WHY TAKE THIS TRIP WITH US?
Our mountain guides are an integral part of Andeanface because they understand and share our climbing principles. The quality of our guiding staff is the primary difference between us and our competitors. The guides we employ are personally known to us for several years, this has given us some of the best reputation. More importantly we consider safety on the mountains our main goal.


Activities
Hiking, camping, steep climbing and up sailing

Terrain
Altar is by far technically the hardest climb of Ecuador

Travel
We travel to Altar by jeep, and hike for one day to the Italian camp, we have horse support for the approach

Weather
Due to its position east of the Andean range, is one of the peaks which has more challenging & unpredictable weather. Best from November to February
RECOMMENDED CLIMBS
We can also offer you:
1. South Iliniza | 5.263 m / 17,267 ft
2. Antisana | 5.758 m / 18,886 ft
3. Cotopaxi | 5.897 m / 19,342 ft
4. Chimborazo | 6.310 m / 20,696 ft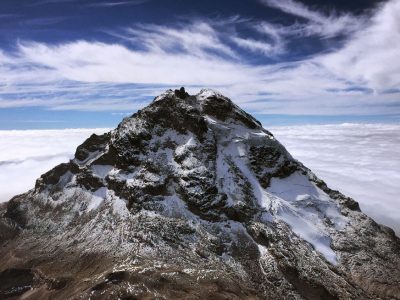 South Iliniza
Iliniza south climb and trek. Mountaineering and trekking in Ecuador.…
Elevation
5.248 m / 17,213 ft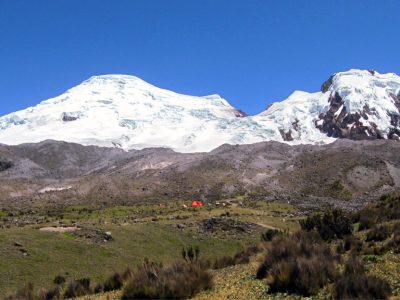 Antisana
A more adventurous experience to the fourth highest volcano in…
Elevation
5.758 m / 18,886 ft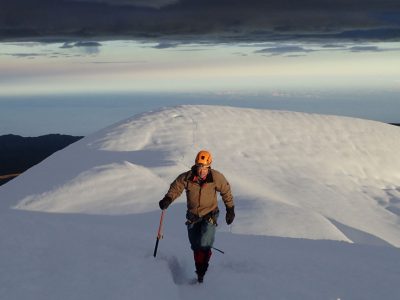 Chimborazo
Conquer the highest summit on Earth measured from the center…
Elevation
6.310 m / 20,702 ft