Rumiñahui Trek
4.631 m / 15,189 ft
Explore of one of Ecuador's most scenic national parks
TRIP OVERVIEW
This long extinct volcano is located 45 km South of Quito and just 13 km Northwest of Cotopaxi. Rumiñahui is a huge caldron open to the Northwest, and it is named after the loyal general of the last Inca Emperor, Atahualpa. Once the Spaniards murdered the Emperor, Rumiñahui hid the famous treasure of gold that was to be paid for Atahualpa's freedom, and led the fight against the Spanish conquerors. In Quichua the name means "stone face".
Our 7 day Cotopaxi trek and climb (which includes Rumiñahui) is also available for those looking for a longer hiking and mountaineering program https://www.andeanface.com/tour/cotopaxi-trek-climb/
Arrive/Depart: Quito
Group Size: Open
Pre-requisites: Acceptable physical condition
Difficulty Levels: Moderate
EXPLAIN DIFFICULTY LEVELS
Access/Depart: Drive in and drive out
Activity: Trekking / Wildlife & Natural History
Seasons: All year round
Equipment: Trekking Excursions Gear List
Download PDF
ITINERARY
Rumiñahui consists of three peaks. We attempt the central summit. Leaving from Quito we start our day with a 2 hour drive to the plateau of the Cotopaxi National Park and start hiking from the Limpiopungo lake located at 3.800 m / 12,464 ft.
The hike normally takes four hours to the summit and two hours down. Technically, it is just a hike with some easy scrambling at the end. The mountain offers a fantastic view of Cotopaxi to the East of Rumiñahui.
The night can be spent in a lodge depending on the next destination of your itinerary.
DAY

01
Trek to the Central Summit of Rumiñahui
Pick up at Quito at around 8:30
Two hour drive to Cotopaxi National Park
Four hour hike to the summit
Box lunch
Two hour down to the vehicle
Drive back at Quito by 19:30
Activity: 4 hours climbing up / 2 hours descending
Transportation: 2-hour private van/jeep transfer
Meals: Box Lunch
Important: Please note that this itinerary is a guideline only. We will do every effort to follow it, but in case of unforeseen circumstances we may have to make changes.
WHY TAKE THIS TRIP WITH US?
We have designed these hikes after being exploring and trekking in Ecuador for over 20 years. We don't just offer the classic trekking routes; we have a comprehensive range of hiking excursions that take you to explore the hidden corners of the northern Andes of Ecuador, offering you off-the-beaten-path experiences, hikes that discover forgotten trails, and stunning natural sights. Each single excursion can be part of a multiple day tailor made program.

SUGGESTED COMBINATIONS
This area offers plenty of possibilities for adventure in the high paramo.
We can arrange different horseback riding trips in the area to visit either Pasochoa, Rumiñahui or Cotopaxi National Park. Or we can suggest a stay in one of the splendid haciendas nearby and a day trek for the following morning.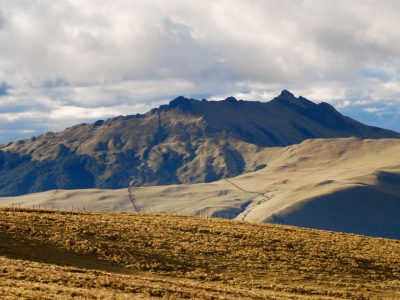 Elevation
4.200 m / 13,776 ft
Corazon
A long trek on a mountain with a "heart"
Elevation
4.788 m / 15,704 ft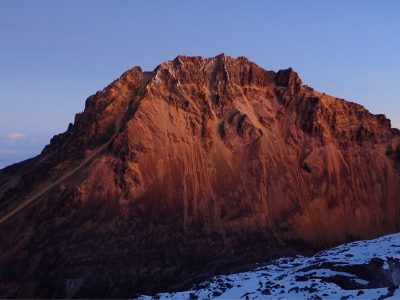 Elevation
5.125 m / 16,810 ft