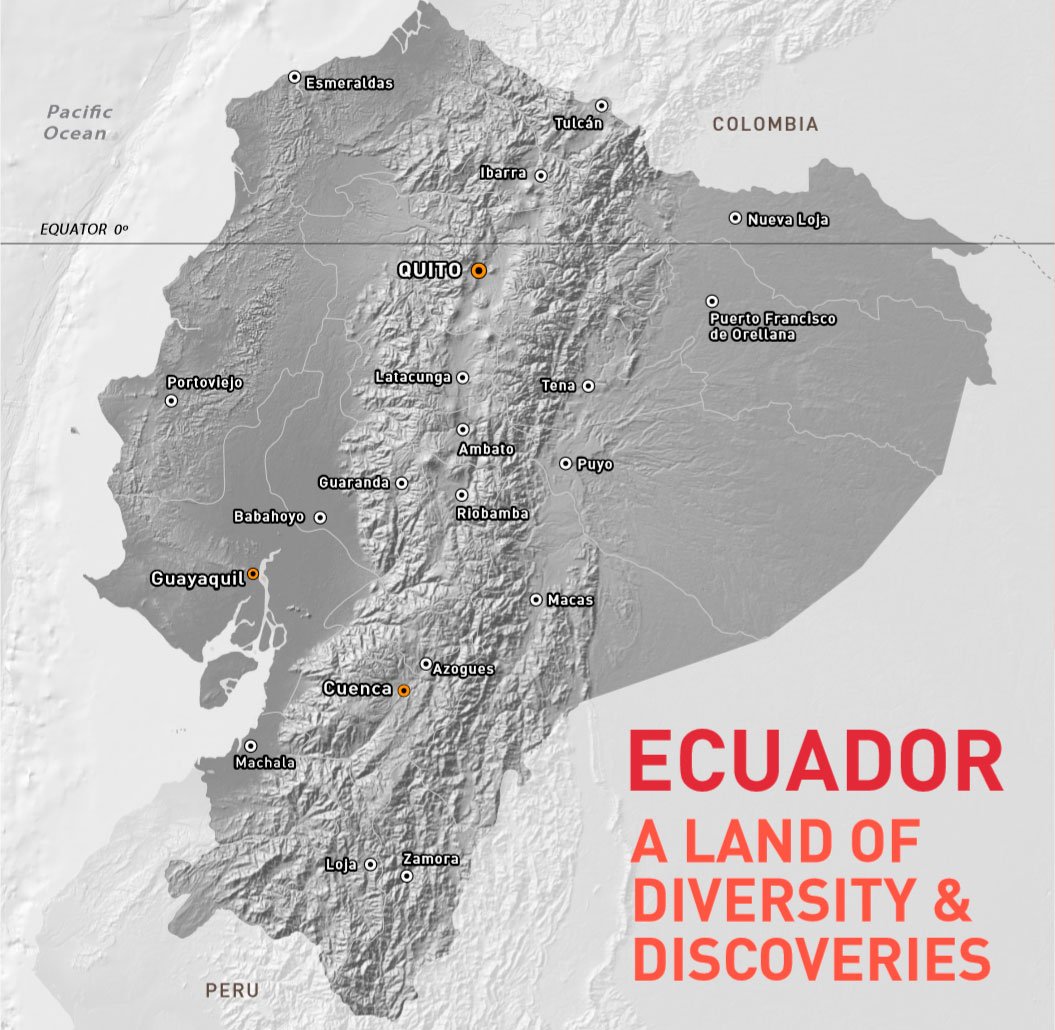 ABOUT ECUADOR
Ecuador's special appeal to mountaineers, trekkers, and nature lovers can be explained in one word – accessibility. The country's unique combination of small size, exceptional geographic, ethnic and biological diversity, and a good transportation infrastructure, places an outstanding variety of splendid experiences within easy reach of the adventurous traveller.
Outrageously easy access to the high mountains makes Ecuador an excellent place to gain experience of high altitude mountaineering, and infinite opportunities to do trekking. The majority of the high mountains in the country can be reached in a day, with the possibility to summit during the night. As long, of course, as you are acclimatized and conditions are fine. This means that once you are acclimatized, you can get a lot done in a short time.
Our home, Ecuador, is a climber's paradise, not only for experienced climbers but also for people looking for a first high altitude experience over a relatively short time frame.
We have learned that many climbers find the transition from the Alps or the Rocky Mountains to the Himalayas very difficult. Often people underestimate such trips. We invite you to an excellent preparation in the Andes! We offer you an important step in the development of your career as a high altitude mountaineer, while enjoying the other marvellous treasures this country has reserved for its visitors.
If you want to get a clear idea of the diversity of Ecuador with it's amazing natural treasures, we recommend you watch "Vista a Ojo de Pajaro – Ecuador" by Jorge Anhalzer.
Suggested Reading
(Available at www.amazon.com)
A Climbing Guide, Yossi Brian, The Mountaineers, 2000.
This is a very informative book on climbing in Ecuador.
Trekking in Ecuador, Robert & Daisy Kunstaetter, The Mountaineers, 2002.
One of the best trekking guides of the highlands of Ecuador.
Travel Among the Great Andes of Ecuador, Edward Whymper, 1891.
This book describes the 1880 expedition which first climbed Ecuador's highest peak, and made seven other first ascents.
Travels to the Equinoctial Regions of the New Continent, Alexander von Humbolt & Aime Bonpland.
Fascinating reading for anyone interested in the historical aspects of the first explorations of the Andes.
The Freedom of the Hills, Don Grayton and Kurt Hanson,
The Mountaineers, 1997.
The most complete mountaineering book available today.