Antisana
5.758 m / 18,886 ft
A more adventurous experience to the fourth highest volcano in the country
TRIP OVERVIEW
Antisana is Ecuador's fourth highest mountain. It is pretty remote and offers some of the most interesting climbing in Ecuador. Unlike the other big mountains there is no refuge and a base camp is needed.
Despite its spectacular appearance and the quality of the climbing, Antisana is rarely climbed. This is due to a combination of two factors. First, its moderate technical difficulty, there are no "walk-up" routes on the mountain which means that those who attempt Antisana must have glacier climbing skills. Second, the fact that access to the area around the mountain is restricted in order to protect the wildlife and environment.
Our 7 day Antisana trek and climb is also available for those looking for a full program https://www.andeanface.com/tour/antisana/
This short video of our friend Mark Horrell summarizes the climb of Antisana https://www.youtube.com/watch?v=naFHwMv3Oa0
Arrive/Depart: Quito
Group Size: 1:2
Pre-requisites: Some previous glacier travel experience
Difficulty Levels: Advanced
EXPLAIN DIFFICULTY LEVELS
Extension: Optional 1 extra day for weather contingency
Access/Depart: Drive in and drive out with 45 minutes hike to camp
Accomodation: Camping (4.600 m / 15,088 ft)
Activity: Hiking / Climbing
Seasons: All year round, slightly better from November to February
Equipment: Climbing Excursions Gear List
Download PDF
ITINERARY
The glaciers on Antisana are very active. Their configuration is complex and they are always in process of evolution. Our choice of route will depend on the conditions at the time of our climb. Most likely it will include a combination of moderately angled glacier travel and short, steep sections that require the use of the full range of snow techniques for intermediate terrain. During the last part of the climb we will have to route find. Special care has to be given to the bergschrund below the summit and to potential hidden crevasses.
From the summit there's a wonderful view at the north face of Cotopaxi and a remarkable vista across parts of the Amazon Basin. Summarising, the ascent of Antisana offers great adventure and high quality alpine climbing in a spectacular and seldom visited equatorial environment. The ascent normally takes seven hours and the descent three hours.
DAY

01
Travel to Antisana Ecological Reserve
Pick up at Quito at around 8:30
Travel for 2 hours to the Antisana Ecological Reserve
Installation of base camp
Skills review and safety talk during the afternoon
Early dinner at 18:00
Activity: 1 hour trekking
Transportation: 2-hour private van/jeep transfer
Meals: Lunch / Dinner
DAY

02
Summit Antisana / Return to Quito
Climb Antisana leaving at 01:00
Descend from mountain
Rest, lunch and packing
Return to Quito
Activity: 7 hours climbing up / 3 hours descending
Transportation: 2-hour private van/jeep transfer
Meals: Lunch
Important: Please note that this itinerary is a guideline only. We will do every effort to follow it, but in case of unforeseen circumstances we may have to make changes.
WHY TAKE THIS TRIP WITH US?
Our mountain guides are an integral part of Andeanface because they understand and share our climbing principles. The quality of our guiding staff is the primary difference between us and our competitors. The guides we employ are personally known to us for several years, this has given us some of the best reputation. More importantly we consider safety on the mountains our main goal when we run trips.


Activities
Glacier travel, route finding

Terrain
Glacier travel on 35-40 degrees, difficulty to cross the bergschrund

Travel
We travel to Antisana by jeep or van depending on the size of the group

Weather
Due to its position east of the Andean range, is one of the peaks which has more challenging & unpredictable weather
SUGGESTED COMBINATIONS
The acclimatisation principle of "climb high and sleep low" has proved to be true in any mountaineering expedition. The more ascents you do before a major ascent the more chances to succeed you will have at the end. The speed of how quick a person acclimatises varies from one person to the other
RECOMMENDED CLIMBS
Following is a suggested list of ascents that are progressively higher.
1. Pasochoa | 4.200 m / 13,776 ft
2. Guagua Pichincha | 4.797 m / 15,700 ft
3. North Iliniza | 5.125 m / 16,810 ft
4. Antisana | 5.758 m / 18,886 ft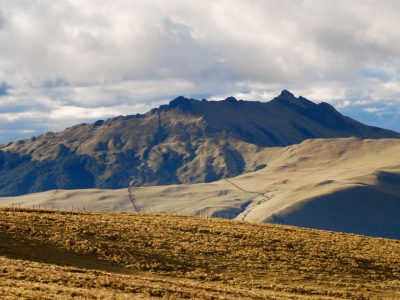 Elevation
4.200 m / 13,776 ft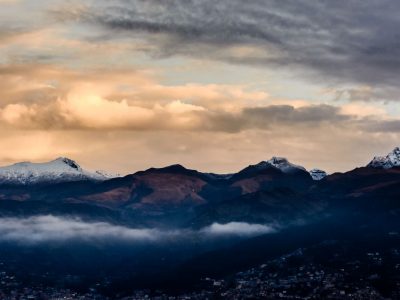 Elevation
4.785 m / 15,694 ft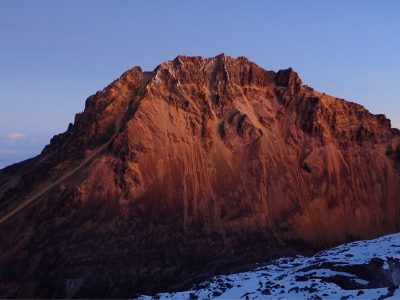 Elevation
5.125 m / 16,810 ft